Steward Medical Group Welcomes Ali Kimyaghalam, MD, Vascular Surgeon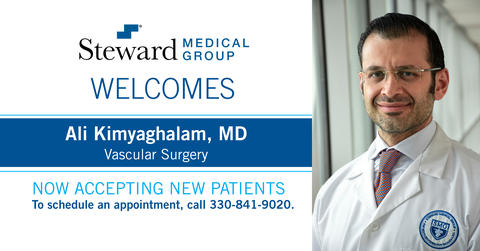 The addition of Dr. Kimyaghalam increases access to exceptional vascular services in the Valley.
Trumbull Regional Medical Center and Steward Medical Group are pleased to welcome Dr. Ali Kimyaghalam to Steward Heart & Vascular, Trumbull, located in the Medical Professional Building at 1353 E. Market Street, Suite 301 in Warren.
Dr. Kimyaghalam is a vascular surgery expert with training in advanced minimally invasive techniques to treat aortic and carotid disease. He has robust clinical interest in advanced carotid stenting, treatment of peripheral artery disease (PAD), endovascular repair of complex aortic aneurysms, endoleak management, aortic dissection management, surgical management of deep vein thrombosis, pulmonary embolism, and varicose veins, and management of hemodialysis access.
"We are proud to have Dr. Kimyaghalam join the Medical Staff at Trumbull Regional Medical Center," said Cindy Russo, President at Trumbull Regional. "Our patients will benefit from his skills and expertise in vascular surgery, as well as his commitment to provide the highest quality of vascular care to the community."
Dr. Kimyaghalam earned his medical degree from American University of Antigua in New York, NY, where he graduated Summa Cum Laude. He competed a General Surgery Residency with Western Reserve Health Education at Trumbull Regional Medical Center followed by a Vascular Surgery Fellowship at Staten Island University Hospital Northwell Health in Staten Island, NY. He is a member of the American College of Surgeons, Society of Vascular Surgery, Eastern Vascular Society, Society for Clinical Vascular Surgery, and New York Society of Vascular Surgery.
"I am thrilled to be returning to the Mahoning Valley and join the Steward Medical Group family at Trumbull Regional Medical Center and provide personalized, high-quality vascular services to a community that means so much to me," said Dr. Kimyaghalam. "Vascular health is extremely important to an individual's overall health. Vascular disease is also the most common precursor to heart disease, stroke, and heart attack, so I'm looking forward to providing education to patients and the community on preventive vascular care." 
DIRECTORY
Ali Kimyaghalam, MD, is accepting new patients at the following location:
Steward Heart & Vascular, Trumbull
1353 E. Market Street, Suite 301
Warren, OH 44483
Phone: 330-841-9020
Fax: 330-841-9795