Hillside Rehabilitation Hospital and Steward Medical Group Welcome Megan Teeples, MD, Physical Medicine & Rehabilitation Physician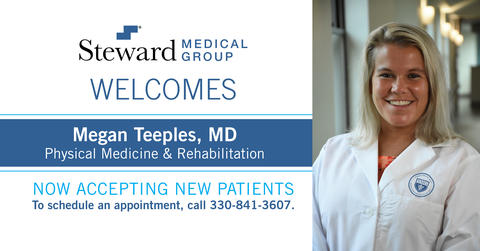 The addition of Dr. Megan Teeples increases access to exceptional
rehabilitation services in the Valley.
Hillside Rehabilitation Hospital and Steward Medical Group are pleased to welcome Dr. Megan Teeples. Dr. Teeples is accepting new patients at Hillside Rehabilitation Hospital, located at 8747 Squires Lane NE in Warren.   
Dr. Teeples has a robust clinic interest in spasticity management, musculoskeletal joint pain, EMG's and amputee care.
"We are proud to have Dr. Teeples join the Medical Staff at Hillside Rehabilitation Hospital" said Jeffrey Koontz, Administrator at Hillside. "Our patients will benefit from her skills and expertise, as well as her commitment to providing care to the community," said Koontz.
Dr. Teeples earned her medical degree from Northeast Ohio Medical University (NEOMED) in Rootstown. She completed an internship at Summa Health in Akron and a Physical Medicine and Rehabilitation Residency at the University of Toledo Medical Center.
"I am thrilled to join the Steward Medical Group family at Hillside Rehabilitation Hospital and provide personalized, high-quality rehabilitation services to the Mahoning Valley" said Dr. Teeples. "At Hillside, we offer nationally recognized rehabilitation services. A physician directed inter-disciplinary team works with each patient and their family to provide an individualized treatment plan to meet their needs," said Teeples. 
DIRECTORY
Megan Teeples, MD, is accepting new patients at the following locations:
Hillside Rehabilitation Hospital
8747 Squires Lane NE
Warren, OH 44484
Phone: 330-841-3607
Fax: 330-841-3723