Jeffrey Koontz, DPT, named Administrator at Hillside Rehabilitation Hospital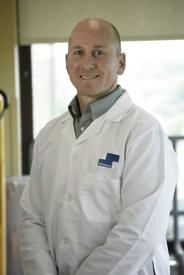 Hillside Rehabilitation Hospital is pleased to announce that Jeffrey Koontz, DPT, has been named hospital Administrator.
Jeff began his career at Hillside in 2005 as a student physical therapy rehabilitation aide. He earned his Master's in Physical Therapy in 2007 and his Doctorate in Physical Therapy in 2010 from Youngstown State University. He started as a staff physical therapist at Hillside in 2010 and has been at the hospital since.
"Jeff has demonstrated excellent leadership skills and a commitment to providing the highest quality of care to patients" said Robert Rogalski, President, OH/PA Region. "We are confident that Jeff's extensive experience and knowledge in rehabilitation will guide in the development and growth of Hillside Rehabilitation Hospital and the services we offer to the community" said Rogalski.
During his tenure at Hillside, Jeff has served in numerous leadership roles including Director of Rehabilitation Services for Trumbull and Hillside, Director of Business Development, and Director of Rehabilitation Services, OH/PA Region. He was named Interim Administrator in January 2022.