Hillside Rehabilitation Hospital and Steward Welcome Physical Medicine and Rehabilitation Specialist Jeffrey C. Thompson, MD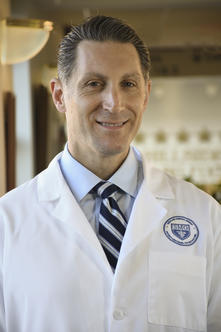 The addition of Dr. Thompson increases access to exceptional
rehabilitative care in the Mahoning Valley.
(Warren, Ohio- October 25, 2019) – Hillside Rehabilitation Hospital and Steward Medical Group are pleased to welcome Jeffrey C. Thompson. Dr. Thompson is board-certified in Physical Medicine and Rehabilitation and has clinical interest in stroke rehabilitation and prevention, wellness and movement as preventive medicine and spasticity management. He has also been named the Medical Director at Hillside Rehabilitation Hospital.
"Dr. Thompson will help to provide important inpatient and outpatient rehabilitative care to the community allowing our patients to achieve high levels of function, independence and a higher quality life" said Michael Callum, MD, president of Steward Medical Group.
Dr. Thompson completed a one-year transitional residency at Kettering Medical Center in Dayton in the Department of Medical Education. He then completed a Physical Medicine and Rehabilitation Residency at the University of Michigan Health Center in Ann Arbor. Before joining the Hillside team, he worked as a Physiatrist at the Cleveland Clinic in Avon. Dr. Thompson is accepting new patients at Hillside Rehabilitation Hospital, located at 8747 Squires Lane NE in Warren. For more information or to schedule an appointment call 330-841-3607.
Dr. Thompson earned his medical degree from Boonshoft School of Medicine at Wright State University in Dayton. He is a member of the American Academy of Physical Medicine and Rehabilitation and the American Association of Physician Leadership. 
Steward Medical Group is a dynamic and growing physician-led multispecialty practice group that is a key part of Steward Health Care—the largest private, tax-paying hospital operator in the United States. The medical group operates practices in 11 states, with both primary care and specialties ranging from Women's Health to Advanced Cardiac Surgery.
Steward's footprint in Ohio includes many unique medical practices with care ranging from primary care and women's health to orthopedics and other specialty services.
Hillside Rehabilitation Hospital is the Valley's first and largest free-standing rehabilitation hospital focused on comprehensive and experienced rehabilitative care. Hillside offers nationally recognized rehabilitation services for people recuperating from strokes, brain injuries, neurological conditions, spinal cord injuries, amputations and orthopedic issues. A physician-directed interdisciplinary team works with each patient and his or her family to provide an individualized treatment plan. Hillside has earned a reputation as a nationally known rehabilitation facility and is accredited by both The Joint Commission and the Commission on Accreditation of Rehabilitation Facilities (CARF). Hillside's CARF-accredited programs include: inpatient rehabilitation for adults, children and adolescents and comprehensive vocational evaluation services.
For a complete listing of all the medical services offered at Hillside Rehabilitation Hospital, visit hillsiderehabhospital.org.
DIRECTORY LISTING
Dr. Jeffrey C. Thompson is now accepting new patients at the following location:
Hillside Rehabilitation Hospital                                  
8747 Squires Lane NE                                                          
Warren, OH 44484                                                         
330-841-3700