Baby Boom! Five therapists at Hillside are expecting in 2019!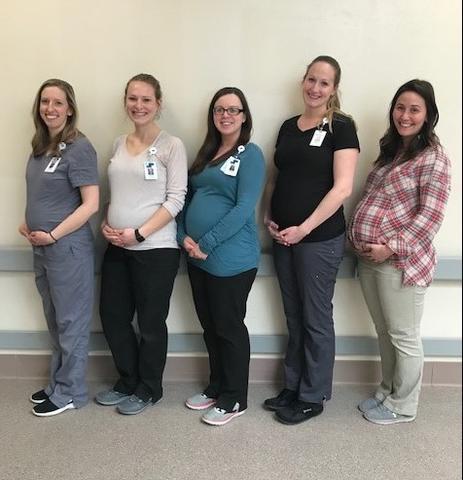 Cutline: Five therapists at Hillside Rehabilitation Hospital are expecting within the next few months. Pictured from left are: Laura Calko, OT; Julie Cross, PT; Lindsay Meikle, OT; Amanda Sanders, PT; and Kristie Chang, PT.
Note: Kristie Chang, PT was expecting during the time this article was written. Kristie has since delivered a baby boy. Congratulations Kristie!
There's a baby boom at Hillside Rehabilitation Hospital! Five therapists are pregnant and all due between April and September. The list in order of due date is as follows:
Kristie Chang, PT (4/13/19); Amanda Sanders, PT (6/22/19); Lindsay Meikle, OT (7/6/19); Julie Cross, PT (7/25/19); Laura Calko, OT, (9/14/19).
The five therapists are all very supportive of each other, as is the Hillside team. Chang, Meikle, Sanders and Cross are all first-time moms-to-be.
"As this is my first pregnancy, it helps to calm any uncertainties to know that so many around have gone through or are going through the same things," Sanders said.
Chang added, "It's been very helpful to have others going through this at the same time, and also to be surrounded by so many seasoned moms throughout this process."
Meikle, echoed those thoughts.
"It's very helpful to have others going through this for their first time with me. It's also helpful to have so many other coworkers who have children who can share their wisdom with us. We have such a great therapy team at Hillside that be-tween our rehab aides and therapists I feel as though everyone's always looking out for all of us girls," she said.
As the number of pregnancies continued to grow, so did the disbelief – and then the jokes kicked in.
"I was definitely happy and excited for the first three women that announced, and then found out I was pregnant. Telling everyone was somewhat comical because of how many of us there are. Of course, the 'there must be something in the water' jokes started," Cross said.
"With my due date being the furthest away, my first thought was, 'OK, after me, who's next in line to have a baby?' said Calko who has a 2-year-old daughter. "It's fun to share in the excitement with the other girls, and I'm excited for them since these are their first babies. It's truly a joy to be a mom; it's really my dream job and favorite job alongside being an OT."
The Hillside family was already a big one – now, they will be an even bigger family.
"We'll all be able to experience the trials/excitement of motherhood together, so this is just the beginning," Cross said.
Congratulations to all five of the moms-to-be!