Occupational Therapy Month Staff Spotlight: Laurie Heintzelman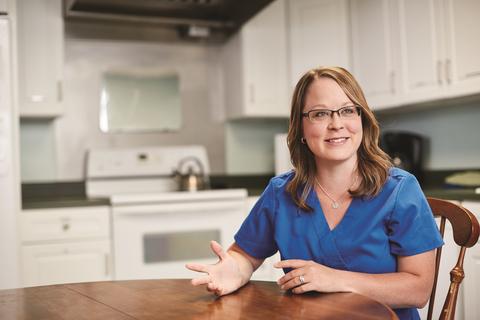 Occupational Therapy Month Staff Spotlight
Meet Laurie Heintzelman, MS, OTR/L   
Lead Inpatient Occupational Therapist at Hillside Rehabilitation Hospital
How long have you been at Hillside in this role?
I have been an OT at Hillside since January 2010 and have been the lead OT since October 2017.
Where did you attend school?
I attended Elizabethtown College in Pennsylvania.
What inspired you to get into this field?
I always wanted to do something in the medical profession. When my grandmother had bilateral knee replacement surgery, she had inpatient rehabilitation and we first learned about Occupational Therapy. She called me one day and exclaimed, "I made blueberry muffins today – you should be an OT!"
What are some of your responsibilities in this position? 
In addition to regular patient care, I handle much of the managerial duties for the occupational therapy department such as equipment ordering, scheduling, and quality improvement initiatives.
What are some highlights from your career?
Seeing patients and their families in the community or on a return visit through Hillside with smiles on their faces is always wonderful. We have the opportunity to work with such amazing patients who have such complex backstories, dreams, and the drive to achieve their goals. I think we often forget how lucky we are to meet and form bonds with the great people in our communities.
What do you like to do for fun?
Travel! But when I do have to stay home, I enjoy working alongside my husband on our many outdoor projects, checking out local independent eateries, and volunteering with church and community-based groups in my hometown of Columbiana.
What's something people don't know about you?
I think most people know this, but I'm a total anglophile. I had the amazing opportunity in college to study abroad in England, so the entire English culture still fascinates me. Everything from the food, Mary Poppins, and historical architecture to Brexit and the latest royal family news are right up my alley!
What do you like most about working as an OT at Hillside? 
The comradery and team mentality of the entire therapy department is key to the success stories that so many of our patients experience. Together with the rest of the interdisciplinary team, we see some really great outcomes that help people get back to their regular routines after illness or injury.