Crafts, Raffles and Santa set to Headline Christmas at Hillside event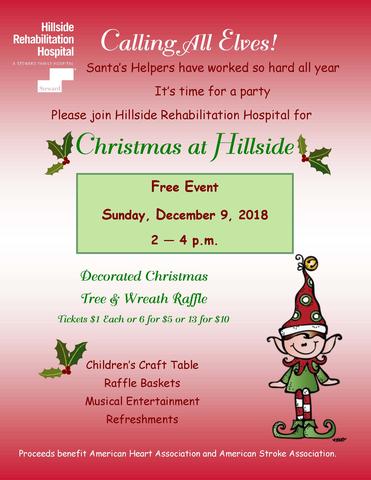 Hillside Rehabilitation Hospital will host its "Christmas at Hillside" event on Sunday, December 9 from 2-4 p.m.  Among the festivities will be a children's craft table, over 20 raffle baskets, musical entertainment and refreshments. 
"Firmly Grounded", the praise team at Howland United Methodist Church, led by Clay Colley, will be performing at the event, while children in attendance will have the opportunity to meet and take photos with Santa.
Employees and community members have donated and decorated 28 Christmas trees and 40 wreaths that are currently on display throughout the hospital. Each tree has a special theme. All the trees and wreaths along with other Christmas décor will be up for raffle at the event. The raffle drawing will take place on Wednesday, January 2 and winners will be notified after the drawing takes place and do not need to be present during the drawing.
Raffle tickets for the Christmas trees and wreaths can be purchased in the main lobby at the receptionist desk and at the outpatient therapy registration desk, beginning Saturday, December 1. Cost is: $1 each; 6 for $5 or 13 for $10. Winning tickets will be drawn on Wednesday, January 2, 2019. Winners will be contacted and do not need to be present during the time of the drawing. 
Raffle tickets for all the baskets are now on sale through December 10 at Hillside from in the cafeteria, Monday through Friday from 12-1 p.m. Winning tickets will be drawn on Monday, December 10. Winners do not need to be present.
Proceeds from the event will benefit the American Heart/American Stroke Association. The event is FREE and open to the public. Hillside is located at 8747 Squires Ln NE in Howland.  For more information, call (330) 841-9427.