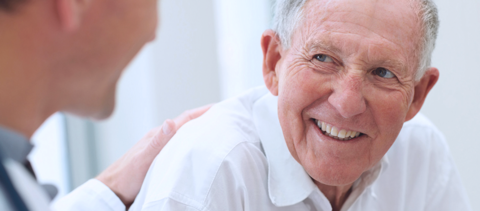 (YOUNGSTOWN, OH – March 7, 2017) In recognition of March being National Colorectal Cancer Awareness Month, ValleyCare Health System of Ohio is offering FREE colorectal cancer screening kits. The kits are available at both Northside Medical Center and Trumbull Memorial Hospital. Pick yours up today at Northside in the main lobby at the registration desk at 500 Gypsy Lane in Youngstown, weekdays through the end of March from 8 a.m. to 4:30 p.m. and at Trumbull Memorial Hospital in the Radiation Oncology office, located on the ground floor of the Medical Professional Building at 1353 East Market Street in Warren, across from the hospital weekdays from 8 a.m. to 3:30 p.m.
According to the Centers for Disease Control and Prevention (CDC), colorectal cancer is the second leading cancer killer in the United States – but it doesn't have to be. If everyone age 50 or older had regular screening tests, at least 60% of deaths from this cancer could be avoided. With the free colorectal cancer screening kits from ValleyCare, the screening process is simple. The kit is called a fecal immunochemical test. It's easy, it's painless and the screening is performed in the comfort and privacy of your own home. Once you have completed the screening, simply mail back your sample in the convenient envelope included with your kit. Our lab will perform the analysis and the results will be mailed to you and your primary care physician.
You can get your free kit through March 31 at the following locations:
Northside Medical Center Main Lobby at the Registration Desk 500 Gypsy Lane in Youngstown Pick-up times: Monday through Friday 8 a.m. to 4:30 p.m.
Trumbull Memorial Hospital's Medical Professional Building Radiation Oncology office 1353 East Market Street, ground floor in Warren-Across from the hospital The Medical Professional Building can easily be accessed by entering the driveway from Laird Ave.  Pick-up times: Monday through Friday 8 a.m. to 3:30 p.m. For more information or questions about the free colorectal cancer screening kits, call 330-884-1064.
###
About ValleyCare Health System: As one of the Mahoning Valley's largest employers, ValleyCare Health System of Ohio is a network of healthcare facilities committed to providing quality, innovative and compassionate care. Northside Medical Center in Youngstown and Trumbull Memorial Hospital in Warren are full service hospitals offering a broad spectrum of inpatient, surgical, diagnostic and outpatient services. Hillside Rehabilitation Hospital is ValleyCare's distinguished acute rehabilitation hospital located in Warren that provides multifaceted inpatient and outpatient rehabilitation services. ValleyCare Health System of Ohio also operates several affiliated outpatient facilities throughout the Mahoning Valley including surgical services, urgent care, diagnostic, lab and occupational health.